Huff Post Weird News David Moye First Posted: 7/26/11 10:30 AM ET Updated: 7/26/11 11:15 AM ET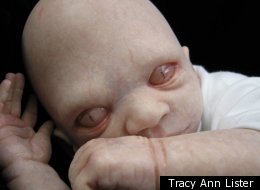 Thanks to a British artist, he who must not be named is now a doll that must not be played with.
Tracy Ann Lister is an accomplished "reborner" — a title given to artists who specializes in creating incredibly realistic dolls that look like they just popped out of the womb, complete with mottled skin and adorably smashed-up faces.
Lister has been "reborning" vinyl versions of human babies since 2003, but she is now scaring up more attention than ever thanks to a series of doll sculptures designed to look like the younger versions of the Harry Potter gang.
For instance, the Harry Potter doll has the adorable lightning bolt scar on the forehead, the Dobby the House Elf piece is extra small and the Severus Snape doll has the same permanently peeved expression as the adult version portrayed by Alan Rickman in the films.
All of these one-of-a-kind pieces of art are currently being sold on eBay for upwards of $250, not counting shipping.
But the one scaring up the most attention is the one depicting the "Dark Lord" Voldemort as an infant.
The piece has the same creepy snake eyes, but unlike the adult version of "You know who," the vinyl Voldemort still has a nose (and a cute one at that).
Baby versions of adult characters are nothing new — think "Muppet Babies" — but Lister strongly recommends keeping her Potter dolls out of the hands of children because of the the magnets, mohair and glass beads she uses to make them.
Numerous journalists have attempted to talk with Lister about her work, but she has declined all requests.
"Many thanks for your interest, but it's not something I want to do," Lister replied to HuffPost Weird News via email. "I did the Potter babies simply because I'm a huge fan, it was just a bit of fun, but it seems a couple of the links have gone viral and I'm getting masses of hits."
So it seems that if "Voldemort" is not a word that can be spoken in the Harry Potter universe, than "interview" is one that can't be used in Lister's.