NIGHT IN ALACHUA COUNTY – Q&A with Director Christopher M. Walsh
What's your "horror history"? How did it all begin, change, etc.
My earliest brush with horror came when I was about 7 or 8 years old. My parents wanted to watch the movie GHOST STORY on TV. I was told it would be too scary for me, and that I should just go play in my room for a couple hours. I devised some excuse to come out and just casually get a peak at what they were watching, and managed to catch a glimpse of the screen right at the moment Alice Krige turns into a hideous corpse-monster and gives Melvyn Douglas a heart attack. Scarred me for life, but then a couple years later POLTERGEIST came out and I wanted to give scary movies another try. I figured hey, it's by the same guy who made E.T. How scary can it be? I was not quite prepared for the moment when the tree reaches through the window and grabs the kid. Or when the guy rips his own face off in the bathroom.
A couple years later I read the short story collection, NIGHT SHIFT – my first Stephen King. I discovered Tolkien around the same time and developed a fascination with epic fantasy villains. This eventually reconnected with horror in high school when I read DRACULA for the first time. I couldn't get enough of the way characters like Dracula, Sauron, or Stephen King's Crimson King could loom so large, infecting every page with their presence, when their actual screen time was so minimal. And I loved the idea of a character being so evil it infects the very land around them. I've always wanted to get a closer look at places like Mordor, Carcosa, or Castle Rock.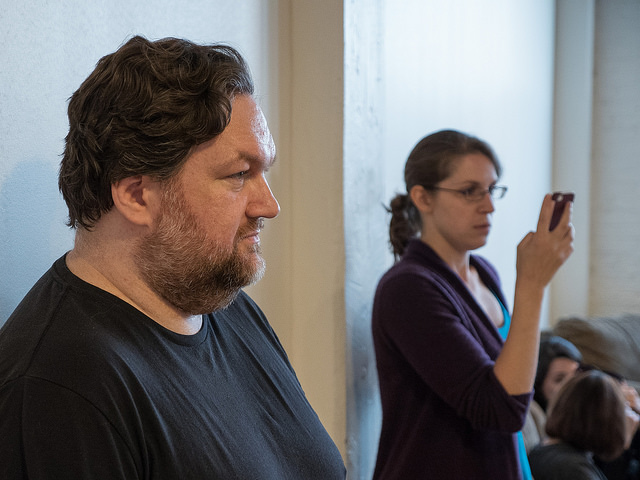 What scares you?
Confined spaces. The ocean. White House Senior Advisor for Policy Stephen Miller. Being trapped in a confined space in the middle of the ocean with White House Senior Advisor for Policy Stephen Miller.
Speaking of the times, why do you feel it is necessary to be scary in a scary time?
Getting to the end of a nice, scary story can be empowering. It's good to be reminded that if you can make it through this one scary thing, maybe we can get through this other scary thing, too.
What is your most frightening creation?
I'm hoping it will be NIGHT IN ALACHUA COUNTY, running September 5 to October 7 at the Den Theatre! Otherwise, I suppose it would be the collection of severed limbs I keep buried in various backyards throughout the greater Chicagoland area.
NIGHT IN ALACHUA COUNTY runs September 5 – October 7 at the Den Theatre, 1333 N Milwaukee Ave, Chicago, IL 60622. Tickets are on sale now!