"CRITIC'S CHOICE - "[T]he production is compelling…expressing the longing and hopelessness that Karen and Gary certainly feel and exploiting our inability to gauge whether Molly and Joe feel anything at all. A moment of possible communion between Gary and Molly is at once uncanny and emotionally powerful."
Chicago Reader - Tony Adler
"(D)elightful... transcends formula schlock. The Revenants opens with a mini-masterpiece of unnerving terror. (S)tartlingly vibrant performances... (a) tightly paced story. The end isn't pretty. But it is as perverse a happily-ever-after as you could possibly want from a tale of love among ghouls."
Windy City Times - Catey Sullivan
"Has the perfect balance of humor, creepiness, emotional moments, and yes even some blood and gore... you feel as though you are really there in the basement living the hell of the situation with these characters. I absolutely love that Wild Claw can put on a play that makes me sad, happy, and scared but also leaves me thinking and pondering the story and characters hours even days after the play is over."
Horror Society - Jessica Wells
"Fantastic... gut-wrenching and wonderful! Barsotti has hit the nail on the head when it comes to zombies. As far as production value goes, WildClaw has upped the bar. This play is top notch! This is just about as close as you'll ever come to seeing a live bullet to the head! The Revenants is not to be missed!"
Killer-works.com - Jude Mire
"Well worth your time. The Revenants represents a unique opportunity to watch a wildly ambitious company, comprised of talented and charming people, take a thrilling step closer to accomplishing their exciting mission. If you love horror and/or unusual theater, The Revenants should not be missed."
Steadstyle Chicago - Venus Zarris
"It's refreshing to see a piece firmly centered on the central question of what makes us human -- our appetite for survival at any cost, or our need for love and companionship? [Director Anne] Adams knows how to underscore the creepiness without letting it overwhelm the heart of the show."
Chicago Tribune - Kerry Reid
"RECOMMENDED: A 'Must See' Show. It offers an unparalleled chance to watch a splatter horror play and a talky relationship play in one sitting.
Centerstage Chicago
"Gripping. (A) breakthrough... between (Barsotti's) idea and WildClaw's sound-lights-makeup execution, this goes much further toward convincing onstage horror than your typical multimedia stab."
Timeout Chicago - Brian Nemtusak
"(T)he production has some truly resonant scenes... when the emotional entanglements of all four characters' shared pasts are laid bare, the horror-house shocks and interpersonal bickering become something far more emotionally arresting. "The Revenants" shows how love can last longer than life itself, and its effects can be both beautiful and terrifying.
Judiciously used sound effects suggest rampant horror in the world beyond. The zombies' presence is continuous and gruesome, but never inappropriately pulls focus from the living characters. A well-designed set captures the claustrophobic dread exemplified by George Romero's "Night of the Living Dead." Chekhov's proverbial gun on the wall is, for this audience member, a spading fork over the workbench... 'The Revenants' doesn't disappoint those who enjoy splatter-spectacle in a relationship drama. Judging from the crowded house, this is a greater number of people than one might expect."
Centerstage Chicago Review - Geoff Hyatt
"Very satisfying." 4 out of 5 Stars
Windy City Horror - Ian Monroe
"(A) few minutes in, I was checking my escape routes in case I had to make a run for it. I did not want to part with even a mouthful of my spicy, delicious brains.
The acting is solid all around.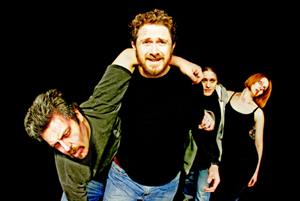 The transfixing presence is Brian Amidei... and his love and understanding of horror bleeds through his performance. Whenever I thought Joe was an empty puppet shell of a cadaver, Amidei took me the other way. When I thought Joe was a sound mind trapped in an animated yet very dead body, Amidei made me question that. He is guttural and menacing and pitiful and tender and predatory. He manages to make me jump even when I know what is coming. He makes that fist in my stomach clench and twist a little bit.
Charlie Athanas's set design... felt like a basement even though the Angel Island Theatre is up a flight of stairs. There are a few amazing qualities to this normal-looking set, which at one point left me slack-jawed.
Sound designer/composer Mikhail Fiksel creates a wonderful, horrible soundscape.
Blood and gore are used sparingly, but to great effect. Ryan Oliver is the blood jock, and his squibs are some of the best I have ever seen onstage.
I was startled, grossed out, shocked, afraid, and saddened."
Chicago Stage Review - J. Scott Hill
"(I)t is Great! It's a tight, edgy, claustrophobic and suspenseful character drama with harrowing moments and deep emotional resonance. And it's about Zombies!
Seriously, folks - don't miss this show! The WildClaw folks have excelled at doing exciting, fun and creepy theater, but this play takes them into a new realm of serious dramatic work. The show is terrific on all levels, with imaginative and creative work all around - as you'd expect coming from this company. Believable set design with wonderfully playful and sinister details, moody and effective lighting design, energetic and intelligent blocking, believable violence, and rich and powerful sound design.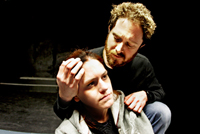 (A) terrific story, and this a really damn-impressive script. It's full of terror, pathos, humor, and humanity that serves to elevate the zombie archetype into a rich metaphor for past love, relationships, and self-images. And the small cast is doing first rate work with it. The two actors playing zombies (Brian Amidei and Laura Hooper) are doing a staggering job of finding ways to emote and communicate character through the blank facade of the living dead, imparting some of the play's more heart-wrenching moments. Ryan Dolan does a great job taking his angry alcoholic Gary through a journey of unexpected emotion & revelation. But special attention must be given to Jenny Strubin as Karen , whose spot-on performance delivers a remarkable range of depth, feeling and contradiction. Great emotional reality that elevated the whole show.
And did I mention the Scary? Hell, yeah. :)
Obviously a big recommend. Go folks - go now!!!
Sword and Cloak - David Schmidt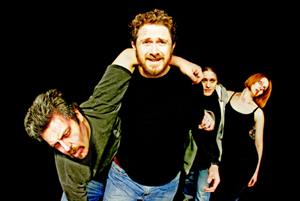 The Revenants
by Scott T. Barsotti

'Til Death Do Us Part.
Directed by WildClaw company member Anne Adams, this "relationship drama - with zombies" features Brian Amidei, Ryan Patrick Dolan, Laura Hooper and Jenny Strubin.


"The Revenants" focuses on two married couples barricaded in a basement during a violent uprising of the undead. As supplies run low and hopes dwindle, it is revealed that two of the spouses are infected and getting...hungry. Faced with the true meaning of commitment, husbands and wives must ask of each other: When does love die?

Following its critically acclaimed adaptations of horror lit classics
(Arthur Machen's "The Great God Pan" and H.P. Lovecraft's "The Dreams in the Witch House"), WildClaw now sets its sights on the dystopian future with "The Revenants." This gut-wrenching tale of love, regret and zombies continues WildClaw Theatre's mission of bringing intelligent and imaginative horror to the Chicago stage.
Directed by Anne Adams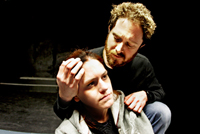 Featuring:
Brian Amidei (Joe)
Ryan Patrick Dolan (Gary)
Laura Hooper (Molly)
Jenny Strubin (Karen)

Paul Foster † Lighting Designer
Aly Renee Greaves † Costume/Makeup Designer
Sania Panayotova † Make-up Design
Charlie Athanas † Set Designer
David O'Brien † Assistant Set Designer
Jason Pikscher † Technical Director
Mikhail Fiksel † Sound Designer
Aaron Christensen † Fight Choreographer
Ryan Oliver † Gunshot Effects Artist
Anna Brenner † Stage Manager
Coye Vega † Assistant Stage Manager
Charley Sherman † Production Manager


"(A) tight, edgy, claustrophobic and suspenseful character drama with harrowing moments and deep emotional resonance. The Show is terrific on all levels.
Don't miss this show!"
David Schmidt - Sword and Cloak
I absolutely love that Wild Claw can put on a play that makes me sad, happy, and scared but also leaves me thinking and pondering the story and characters hours even days after the play is over."
Jessica Wells - Horror Society